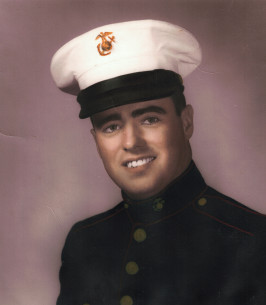 Thomas F Davock, 88, a resident of South Street, Hoosick, died peacefully on Sunday, May 3, 2020 at the Southwestern Vermont Medical Center in Bennington surrounded by his family.
Born in Hoosick Falls on January 29, 1932 he was the son of the late Frank and Jennie (Corcoran) Davock. Tom received his education in Hoosick Falls where he graduated from St. Mary's Academy. He served in the United States Marine Corps during the Korean War.
Tom married the former Lois LaPorte at Immaculate Conception Church in Hoosick Falls on June 30, 1956. Mrs. Davock died July 27, 2001.
Tom was employed for over 35 years at Woodflong and Lydall in Hoosick Falls. He later worked for 8 years at the New York State Department of Transportation.
He was a devoted parishioner at Immaculate Conception Church. A passionate sports fan of all Boston teams, he was an especially avid fan of the Boston Red Sox and had attended several games in Fenway Park each season for many years. One of his greatest pleasures was to give his Red Sox tickets away to Red Sox fans.
Survivors include four daughters, Terry (Roger) Zalucky of Troy, NY, Janie Davock of Albany, NY, Vickie Davock-Dunson of North Greenbush, NY and Patti (Mark) Bass of Cambridge, NY; three grandchildren, Brandon Davock and Rachel and Thomas Bass; three great-grandchildren, Sydney, London and Milan Davock who they referred to as "Loving Poppy" and several nieces, nephews and cousins. Tom was predeceased by a daughter, Barbara Davock, a son-in-law, Jerry Dunson and two sisters and a brother, Jane Rourke, Margaret Crucetti and Bernard Davock.
Due to the restrictions in place from COVID-19, there will be no public services until the situation allows. A Mass in Tom's memory will be held at a later date.
Burial will take place in the family lot in St. Mary's Cemetery in Hoosick Falls.
Should friends desire memorial contributions in Thomas Davock's memory may be made to either the Town of Hoosick Rescue Squad or the Jimmy Fund through the office of the Mahar & Son Funeral Home, 628 Main Street, Bennington, VT 05201.
Guestbook condolences may be made at http://www.maharandsonfuneralhome.net