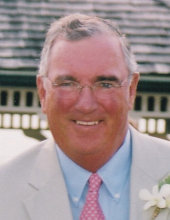 Bennington, VT–SIMEON HARRISON ROLLINSON III, 80

Simeon ("Sim") was born on March 17, 1939 in West Orange, NJ, and died peacefully on June 25, 2019 in Bennington, VT after a courageous battle with lung cancer.

Sim will be fondly remembered for his kindness, generosity, and incredible sense of humor.

Sim grew up in West Orange, NJ, and attended Newark Academy, Pomfret School ('57), and Princeton University ('61) where he was a member of the Colonial Club.

Sim married Julia ("Judy") Hefferan Rollinson, his wife of the last 54 years, in Grosse Pointe Farms, MI in 1965. He was the proud father of four boys (Topher, Austie, Jamie, and Chip) and seven grandchildren. He is survived by Judy, his sons and their families, and a sister (Carroll Bever). He was predeceased by his parents (Harrison and Tryntje) and a sister (Judith Rulon-Miller).

Sim and Judy raised their sons in Harding Township, NJ where Sim was an active member of the community. He was a member of the New Vernon Volunteer Fire Dept and held numerous positions, including chairman, on both the Township Planning Board and Board of Adjustment. He was also elected to the Township Committee and served as Deputy Mayor and Police Commissioner. He also sat on several non-profit boards in NJ.

Sim worked his entire career at the family insurance agency of O'Gorman & Young, which was based in Newark, Chatham, and Princeton, NJ. For many years, he served as the agency's president. After he sold his interests in the agency in late 1990s, he and Judy moved to Dorset, VT. He and Judy split their time between VT and Hobe Sound, FL for many years of his retirement.

Sim was an avid golfer and loved playing his home courses of Somerset Hills CC (NJ) and Ekwanok CC (VT), as well as many others that he played on trips to Scotland and Ireland and as a member of the United States Seniors Golf Association.

Besides golf, Sim loved to paint, sail, read, solve crossword and word puzzles, putter, and spend time with sons and their families in CT, CA, OH, and MA. He also enjoyed spending time each summer at a family cottage in Michigan's Upper Peninsula.

A private celebration of Sim's life will be held at a later date. Online condolences may be left for the family at www.sheafuneralhomes.com. In lieu of flowers, donations may be made to: Ekwanok Scholarship Trust, 3262 Main Street, Manchester, VT 05254.