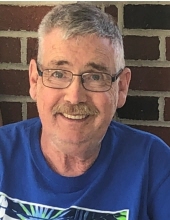 Bennington, Vt – Reginald K Jennings, Sr, 68 a resident of Crow Hill Road, passed away July 6, 2019 at Southwestern Vermont Medical Center. Reginald was born in Bennington on July 31, 1950 the son of the late Ken and Marjorie LaClaire Jennings. He attended Arlington schools, graduating from Arlington High School. He retired as a school bus driver in Arlington. Reginald was a veteran of the United States Army serving during the Viet-Nam era. He was a member of the Arlington Volunteer Fire Department and a former member of the Eagles in Manchester. Reginald enjoyed camping, watching NASCAR and spending time with his family.
He is survived by his sons, Reginald K. Jennings, Jr and his wife Susan of Arlington and Brian "Jake" Jennings and his wife Colleen of Granville, NY, his brother Ronald and wife Debbie of Shaftsbury, VT, his sister Janet of Bennington and grandchildren Morgan, Erinn, Kerri and William. He was preceded in death by his wife Diane Cross Jennings whom he married April 10, 1970 and his sister Sandra.
Funeral services for Reginald will be held Friday July 12, 2019 at 11am at Hanson-Walbridge & Shea Funeral Home Arlington Chapel Historic Route 7A Arlington, VT.
Interment will follow in the family lot in Evergreen Cemetery. Visiting hours at the funeral home will be held Thursday July 11, 2019 from5-7pm.
If friends desire, memorial gifts in Reginald's memory may be made to the Arlington Volunteer Fire Department or the Southwestern Vermont Cancer Resource Patient Fund, c/o Hanson-Walbridge & Shea Funeral Home Arlington Chapel P.O. Box 528 Arlington, VT 05250.
To send the family personal condolences please visit www.sheafuneralhomes.com