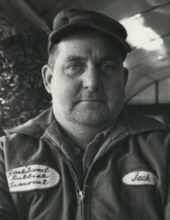 Jack J Sweet 83 a resident of Jacks Lane Bennington Vermont, passed away On Saturday March 21, 2020 at the Southwestern Vermont Medical Center following a brief illness. The son of Walter and Ida (Hurley) Sweet he was born in Bennington on August 12,1936. A lifelong resident of Bennington, at a young age he established himself as a hardworking man who became successful in the refuse and recycling business many years before it became popular. He loved nothing more than to wheel and deal with people making it fair for everyone. In addition to his strong work ethic, he had an outgoing personality, Jack was very social, he enjoyed partying, dancing, playing the guitar and having fun when not working, he was known to play as hard as he worked. In earlier years, he enjoyed camping with his family and deer hunting. He had been a member of the Bennington Rural Fire Department, Company #3 – Beech Street. Jack will be remembered for his love of hard work and the good times he had with family. 
He leaves his wife Ruth Sweet whom he married August 27,1960, sons John Sweet and wife Patty, Walter Sweet and wife Julie, daughter Tina Pierce and husband Gerry all of Bennington, sisters Josephine Colvin of Shaftsbury and Sadie Rice of Pownal, grandchildren Nathan Sweet, Josh Root, Molly Sweet, Justin Sweet, Krystal Pierce, Laurie Pierce and Sarah Gagnon,15 great grandchildren, many nieces, nephews and cousins. He was predeceased by many brothers and sisters. 
Graveside funeral services will be held on Thursday March 26 at 2pm at the Sweet family lot in White Chapel Cemetery . 
Memorial gifts may be made to the SVMC Patient Resource Fund in care of the Hanson Walbridge & Shea Funeral Home, 213 West Main Street, Bennington, VT 05201. 
To send personal condolences please visit www.sheafuneralhomes.com.